*****************************************************************************************************
El Sapo Perezoso – Spanish Style Tapas Restaurant, Droylsden
.
Aileen & Geraldine
"Mike has sung at our restaurant many times and I would thoroughly recommend him, he plays such a wide range of music that there is something for everyone.
He is so enthusiastic and is a pleasure to listen to, He certainly gets people
on their feet.
Many customers have asked me to contact them the next time he is playing
as they want to make sure they get a table".
.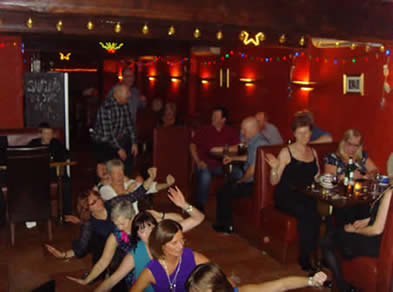 Le Bas House – Withington - Mrs. Angie Barton
"Mike was a great singer/artist. My tenants really enjoyed the afternoon. They didn't want him to stop. Mikewas excellent and he carried on for another ½ hour. He joined in with the banter from my tennants, it was a great afternoon and would definitely recommend him. I have booked him again for May and Dec."
Joseph Jennings – A-U-L, Lancs , - Sherri  Palmer
"Mike is a regular visitor to Joseph Jennings, as the tenants absolutely love him. He is warm and friendly and gets them involved with instruments

.

He always has them singing along and they love it. I would without doubt recommend Mike to anybody. He is a first rate entertainer and worth every penny."
Clifford Hilditch Court, Crumpsall, Manchester - Teresa Bertram
"Mike has a beautiful voice and sings a lovely mix of Hit songs of the past,
he is very good.
.
I would recommend Mike as an entertainer Wholeheartedly, My Tenants loved his singing, and Mike and his lovely wife are very nice

".
Carron House, Northenden, Manchester - Rose Turner
"Great Night , all had a great night, Mike will be coming back soon
"
Metcalfe Court, Romiley, Stockport - Peter
"Just to let you know that everyone enjoyed your entertainment on the 7th. Dec. 2012 and will be booking you again in the near future

".